Jeezo flip, I've been terrible at keeping this blog up lately. Sorry about that. Obviously things have gotten busy, but still...no excuse.
Moving on.
Yesterday was maybe one of my most active work days ever. I got up early and taught Katherine's 8:30 AM strength class, then rode from the gym to work (3.5 miles) on my bike. After work, I rode back and taught my 5:30 PM strength class. The riding to work thing was fun and not terribly novel, except that I had to ride through a rotary to get there and back.
Going 3 exits in a rotary on a bike is terrifying. Nevermind that there are 2 bridges (read: wind) between the gym and work as well. On the way back to my car last night, for the first time ever I started wondering if my bike were too light. The way the wind was blowing me around, I was sure I was going to end up with it pulled out from under me at any second.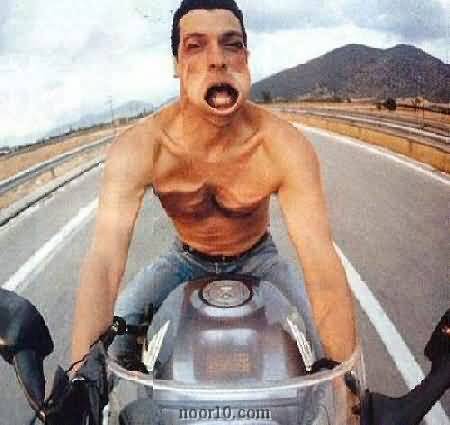 Weeow.
So last week I gave my notice, and it was...anticlimactic. No tears, no throwing of things, nothing. I'm so disappointed when people in real life are way more professional than they are in my head.
Moving on.
Tonight's class is going to be a simulated ride of my impending road trip:
There's just so much Nebraska.
Starting in southern NH, I'll be cruising through MA, NY, PA, OH, IN, IL, IO, NE, then CO. 10 states, 32 hours of drive time.
I just looked it up and apparently it's only 5.5 hours to drive across Nebraska...why does it feel like 2.5 days???
Anyway.
---
So 10 states is easy enough to make into a ride:
NH: Warm up. Pack your stuff, we're heading west. Pee before we get on the road, I'm not stopping the car until we see the Rockies.
Open Road Song - Eve 6 - 3:18
MA: Just a few bumps in the road called the Berkshires out here. Add resistance and stay in the saddle for a seated climb.
Highway Unicorn (Road To Love) - Lady Gaga - 4:16
NY: Add a little more resistance as we head into the Adirondacks. Towards the end we get to the Great Lakes, which were terrifying the last time I drove through them (in January - hello white out) so we pick up the cadence a bit, drop the resistance a bit, and power through.
Fall (Remixed By M83 VS Big Black Delta) - Daft Punk - 3:55
PA: Just a short stretch, but it takes forever because of all the Amish folk clogging up the roads! Slow and steady (moderately heavy) on the verses and quick and light (out of the saddle push) on the choruses when we pass the horses. Plug your noses!!
Save a Horse (Ride a Cowboy) - Big & Rich - 3:22
OH: Settle back into the saddle and pick up the cadence. We're almost at the hotel for the first night. Recover last 1:30.
Shut Up And Drive - Rihanna - 3:33
IN: Let's face it...there's not a lot in IN. However, there's still a lot of traffic on the highway, so we decide to play some games. Leapfrog the class, half out of the saddle, half in the saddle, 30/30.
Follow Me Follow Me (Fast 5 Hybrid Remix) - Tejo Black Alien and Speed - 3:08
IL: Come back into the saddle and settle in for a bumpy flat. 30 seconds flat, 30 seconds jumping for the duration of the song.
Bend it Like Beckham - Do Your Thing - 4:40
IO: Bring it up into a standing run to get to our second night's resting place sooner. Recover for the last minute - we're at my aunt-in-law's house for the night.
Zombie (Techno Remix) - 5:22
NE: Hands down, the worst part of the drive. Literally nothing to see for miles but corn fields, it's appropriate that the song for this phase only has 2 words to it: Barbara Streisand. Every time those words come on, add resistance or pick up the cadence just a bit.
Barbara Streisand (Original Mix) - Duck Sauce - 5:00
CO: So close to the end! Kick up the cadence and soften the resistance down to a level that you can sustain at the upper end of your comfort level.
Celine Dion - I Drive All Night - 5:19
Cool down: Imprint - DoubleDrive - 4:00
---
So that's it, that's my drive to CO. It was boring to write, I'm sure it's going to be a party to drive...by myself...with the cat howling next to me because he's too smart to eat food laced with benadryl. Stupid cat.